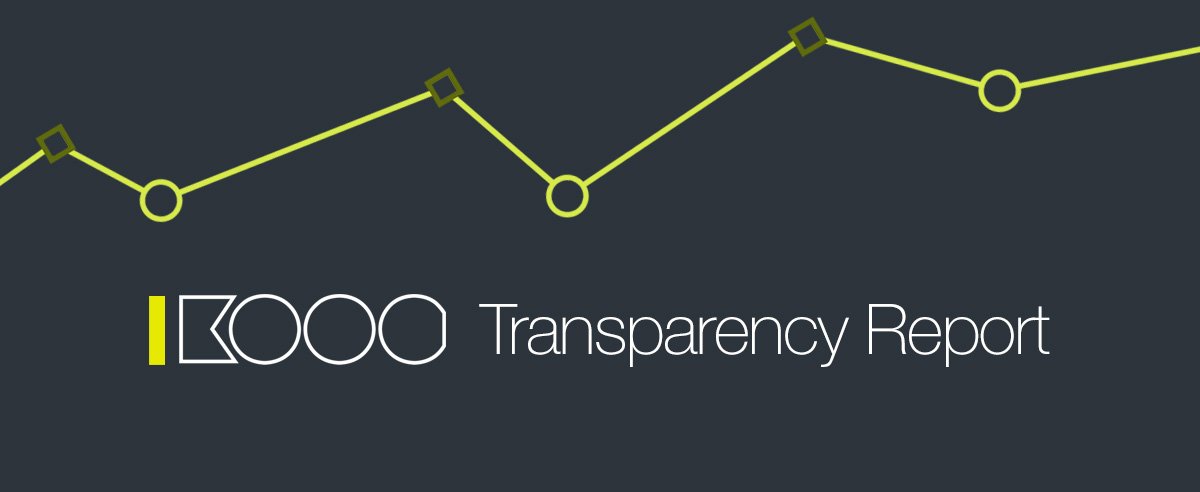 This was supposed to be the first post on my personal site, OliverDale.com, but I decided to use my company site instead as it's already established in the search engines and it made sense to write about my businesses on my actual business website!
I thought I'd start by saying hello and introducing myself: I'm Oli Dale and I used to run WPLift which I recently sold via Flippa, I also run ThemeFurnace and now another couple of WordPress-related businesses ( more on those below ).
I'm going to be using this blog from now on to talk about my company, the websites I run and other topics related to doing business online – my company Kooc Media Ltd, turned 10 this year which is crazy to think about now.
I have always loved reading transparency reports, it's great to see how other online business people are doing and they also act as motivation to me. I used to run a monthly series of them on WPLift a few years back which always did well and seemed to genuinely interest people so I thought it would be cool to start doing the same again now.
In these reports I will be sharing all aspects of running these websites, traffic, finances and so on. I will also be writing posts detailing what works and what doesn't – experiments with growth hacking, working with freelancers, tools I use and anything else I think will be interesting to people who would like to build their own businesses online.
WPLift Sale
Let's talk about the WPLift sale first as that took place at the start of May. I decided the time was right to move on from the blog I started back in 2010, I was finding myself burnt-out with writing about WordPress on a daily basis which is no good if your traffic and income rely on you doing just that.
I have quite a bit of experience selling on Flippa and they have a large audience of high-value buyers so I decided to auction the site off there. Because the site was going to be one of the larger sales there I was put in touch with a broker who helped with the sale: this included things like making the auction an "Editor's Choice", extra promotion of the listing to their newsletter subscribers and extra help after the sale, putting together contracts and so on.
I spent a long time putting together the sales listing, I wanted to include as much information as possible to cut down on questions, I think the final description was over 1500 words long.
I had a couple of early bids but then luckily someone bid $50k which helped cut out a lot of the lower bids and questions from people wanting to get the site cheap. Initially the reserve was set to $200k, that was the figure I had in my head at the start and luckily the site sold for just over that – $200k in the end.
The final day was quite intense, a bidding war between 3 people carried on most of the day – on Flippa if a bid is placed in the last hour, the auction extends by an hour to prevent "Sniping". The auction was due to finish around 4pm UK time but bids kept getting placed in the last hour, pushing the auction on.
As the auction carried on, there was one person who kept outbidding the others, Daan Tol who I had spoken to a few times during the auction to answer questions etc, finally the bidding was at around $204k and counting down, I thought it was over when with literally one second to go another bid was placed from a new bidder who I had no contact with at all during the auction. I was worried it was someone messing with the auction, the broker got in touch with me right away as he thought the same. The broker offered to contact this new bidder by phone and see if he was serious so I told him to go ahead, after the phone call with him he determined the buyer was not serious so we made the auction so only Daan could bid, I then added a Buy it now for $205k which he used and I refunded him that extra $1k.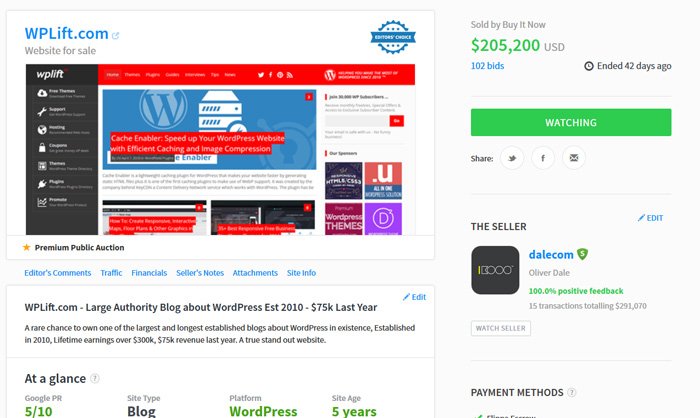 The transfer took a few weeks to complete, Daan had to put funding in place and there was a lot to sort out – I transferred all of my affiliate accounts over with the sale, as you can imagine there were a lot! Contracts had to be written up and signed etc but it all went really smoothly, Daan is a really nice guy from the Netherlands here in Europe. and has a lot of experience running websites and working with clients so the technicalities were all easy to explain to him.
Fees for the sale hurt a bit, Flippa used to cap their commission rate for larger sales but don't anymore so I had to pay them $20k, I feel it was worth it as I think I definitely reached a higher price using the public auction than if I had decided to sell privately.
ThemeFurnace Redesign
With the sale of WPLift complete, that left me time to focus my attention on ThemeFurnace. The site needed a redesign as the last one was in 2013 and the site was starting to feel a little dated to me, plus I wanted to move the members / affiliate system over from Amember to EasyDigitalDownloads.
This proved to be quite a task, but I managed to do it by exporting old members as CSV files and adding them to EDD using their import system. At one point, doing an initial test on a dev site, I forgot to tick the box which prevents the customers being emailed new purchase receipts which went out to over 1000 customers saying they had made a new purchase – doh! I then had to field lots of reply emails and reassure people that no new payments had been taken, I was simply transitioning them over to a new member system.
I'm happy with the site now, the system feels more robust and future-proof, the main plugins that power the site now are as follows:
Easy Digital Downloads
Advanced Custom Fields
AffiliateWP
Conditional Menus
Contact Form 7
Acquisitions – Identifying Prospective Sites
With the loss of monthly income from selling WPLift, my main source of income, I decided I needed to add some new sites to my portfolio fairly quickly which could replace that income. I have been constantly looking on Flippa but it's so hard to find good sites on there, and any sites with potential that do come up are sold for a much higher figure than I would be comfortable with.
I decided I wanted to add more WordPress themes to my collection so I set about looking for existing theme companies to purchase. One motivating factor I had in my search was that they had to have a good number of themes listed in the official directory, two reasons for this – The directory has become much harder to get listed in now, I have themes from 5-6 months ago sitting in the queue for ThemeFurnace. The second reason is that with a good amount of active free themes, that means a lot of links pointing to the main site, making it easier to rank in the search engines.
A few months ago I did notice a perfect candidate come up on Flippa, WPMultiverse, a site with 10 free themes listed on the official directory but only making $25 per month sold for a whopping $10k. I did bid on this site but wasn't willing to go that high, the reason for the high sales price is the large amount of links and domain authority it has: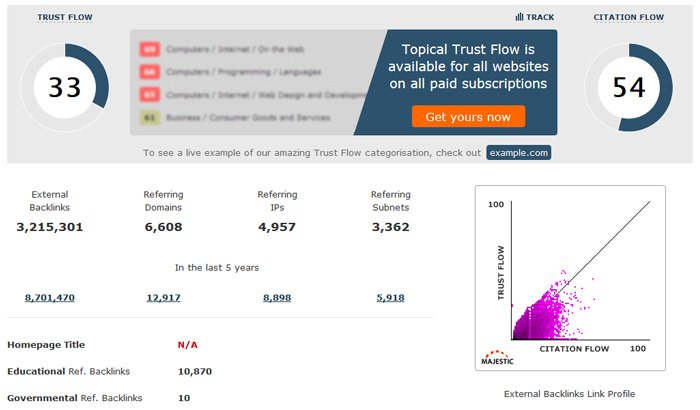 So began my search for theme companies, listed in the official directory that were willing to sell. I literally went through the directory looking for themes I liked, which hadn't been updated for a long time, this would indicate that the owner had abandoned the company or wasn't interested in carrying it on. Each potential acquisition I found, I did some research on it, checked back-links using Moz and Majestic and then contacted the owners. I think I contacted around 15 people in total and received quite a few replies back. One company had a lot of potential and the owner was interested in selling but we couldn't get close enough on price – I was willing to go to $20k but he wouldn't go lower than $80k which I thought was crazy considering the site only made $6k in the last year.
Eventually I found 2 sites that fit my criteria perfectly and we were able to work out deals…
Fimply Acquisition
The first site I bought was Fimply, I ended up paying around $8k for this site. The actual site wasn't active, it had been taken offline but it did have 4 themes listed in the directory, with an active install count of 4700 + another 5 premium themes which were sold via the site. Moz and Majestic were solid:
And I liked the simple Minimal style themes, very different to what I sold on ThemeFurnace so I'm excited to add this to my collection. The actual site, while it looked nice was a bit of a mess so I made a new theme and set it up exactly like ThemeFurnace, using the same plugins and a similar pricing structure.
AlienWP Acquisition
This one, to me is a little more exciting – I was familiar with AlienWP, they made quite a splash when they first launched with some beautiful WordPress themes which were built on the HybridCore framework. After some contact with the owner, we settled on $11k as the purchase price. The site has made $38k in total sales over it's lifetime, with around $4200 sales last year.
What drew me to this site was the themes on the directory having 30k active installs between them, plus a plugin named "Responsive Slider" with 20k active installs. In addition to the .org listed themes, they are also active on WordPress.com, with the Oxygen Theme being the 20th most popular theme on there!
The link stats were also amazing :
The site design, while nice, was a little dated and not responsive. So far, I have made a few tweaks to it – increasing the width and upping the font sizes a bit, it needs a full redesign and also moving over to EDD but I'm not in a huge rush for this as I think the site looks ok currently.
I have also updated the Responsive Slider plugin after testing with latest WordPress as it was hidden from the search results after not being updated for over two years, you can see the stats boost that this gave it here.
Plans for the Sites
I don't really want to be running 3 different websites for theme sales so I'm thinking about merging them – AlienWP is the strongest out of the two purchases so that will be staying as it is, so my options are two add the Fimply themes to ThemeFurnace and place a 301 redirect to that site, or to add the themes to AlienWP and redirect there.
Fimply has a lot of organic links, over 400k according to Majestic and 1.7 million according to Google Webmaster tools so it should give a boost to which ever site I decide to do it to. I'm not familiar with the process so it's something I'm going to be doing some more research into over the course of this month. At the moment I'm swaying towards AlienWP as the style of the themes are probably a better match – both sites offering more minimal style themes.
Another thing that I now have to do for both sites is update the themes themselves, they need some deprecated functions removing, a couple use custom theme options pages which need moving over to use the Customizer and the AlienWP themes use an old version of the Theme Hybrid framework so that either needs updating to latest version or removing completely which would be my preferred option. The problem with removing it is there are a lot of sites that use the themes so I don't want to break anything on people's sites or their child themes.
I'm also planning on creating a new "Welcome" page in the WP admin area for each theme in the official directory, this will list the help file and support links and also an "Up-Sell" page which lists other themes which can be purchased. Between the themes I have acquired and the themes I also have listed under ThemeFurnace, it adds up to a lot of active users of my themes so this is the main way I'm planning to increase signups to the respective sites.
Traffic Details
ThemeFurnace Traffic Stats:
48,964 Sessions
42,412 Users
66,598 Page Views
AlienWP Traffic Stats:
8,368 Sessions
7,244 Users
14,864 Pageviews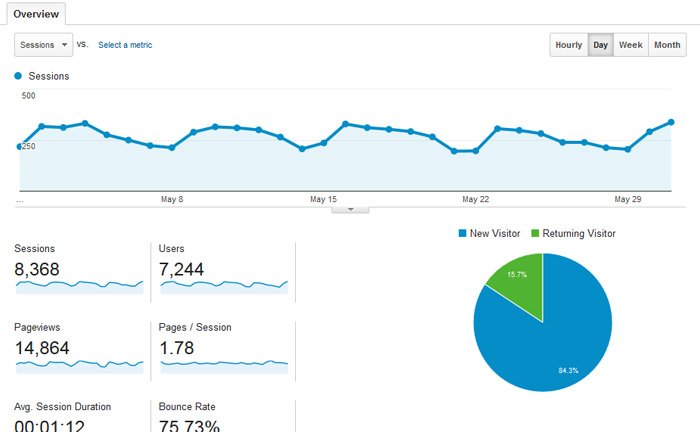 Fimply Stats:
32 Sessions
25 Users
32 Page Views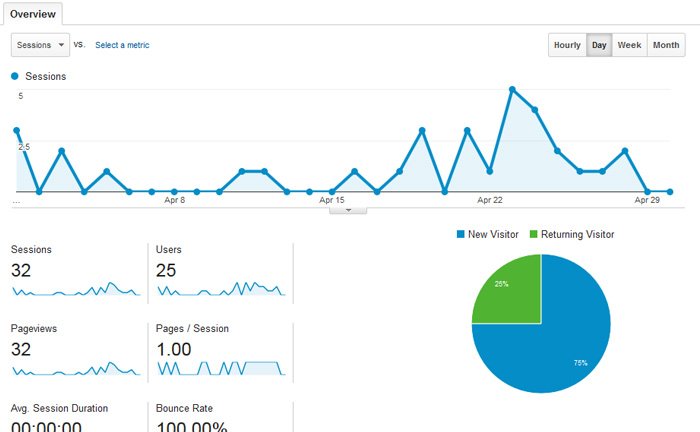 As you can see from these stats, ThemeFurnace is doing quite well traffic-wise, AlienWP is doing ok considering it hasnt had any updates to it in 2 years and Fimply is basically starting from scratch ( the site hasnt been live since the start of the year ).
Financial Details
Each month I will be keeping a record of income details in these posts, obviously last month was an anomaly with a large sale and some large purchases but I shall record them here anyway. From next month, I will also do a more detailed breakdown of income sources and exact expenses.
Income:
WPLift Sale: $204,100
ThemeFurnace: $3,412
Total: $207,512
Expenses:
Flippa Fees: $20,410
AlienWP Purchse: $11,000
Fimply Purchase: $8,000
Total: $39,410
Conclusion & Plans
That's it for this month, It has been one of my most busy months for a while – I have worked quite a few 12-16 hour days, mostly on the redesigns of ThemeFurnace and Fimply. Things should start to settle down this month as I find my new routine and integrate the new websites into my work schedule.
Plans for next month are as follows:
Launch a new theme on ThemeFurnace, this is 90% done
Tidy up code for all purchased themes
Move to the the Customizer where needed
Add responsive styles where needed
Add the welcome pages to every theme
Merge Fimply with either ThemeFurnace or AlienWP
I hope you enjoyed reading this transparency report, there was quite a bit to cover so I don't expect next month's to be so epic, but it will be good to setlle back into the routine of writing these. Make sure you subscribe to the mailing list here, I will be conducting more growth experiments and documenting everything along the way.
If you have any comments or questions, please leave them below.
Till next time, thanks – Oli.