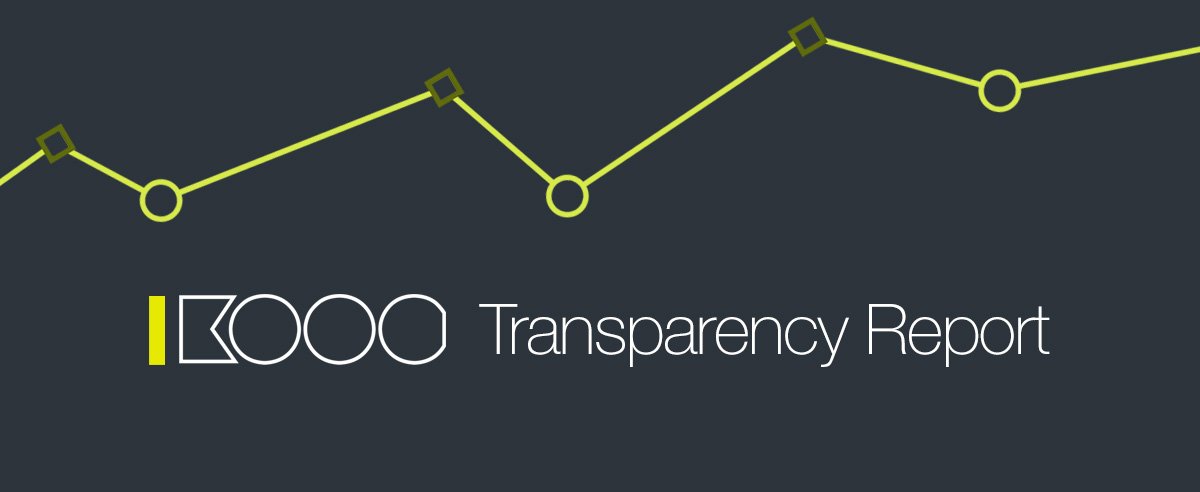 This month's report is a little later than I will usually be doing them – I will be aiming to get these out the first week of the new month from now on. The reason for the delay is I went on holiday at the start of July to Ibiza with my family which was great. Since the sale of WPLift, this was the first holiday I've had for years where I didn't have to do any real work, aside from the odd customer support email of course!
Last month was a very busy one for me, after the acquisitions of Fimply and AlienWP I decided to merge the two sites together under the AlienWP brand. I decided to redesign the AlienWP site as the old design was a little dated, wasn't responsive and it used Restrict Content Pro as the membership plugin – I prefer to use Easy Digital Downloads so I dedicated the start of the month to yet another website overhaul.
I also completed the purchase of a new domain name ( more on that below ) and I also updated some themes for the official directory.
Here's what happened in June.
AlienWP Redesign
My first project of the month was to redesign the AlienWP website, I liked the design of it but it wasn't responsive and I felt it could be improved a bit and brought more up to date. Here is what the old site looked like :
My redesign kept the same logo, colors and styling but I made the site wider and responsive. I added some information about pricing at the top and a "View Themes" button which linked through to all the themes available. Here it is after the redesign :
In the back-end, as mentioned I switched over to Easy Digital Downloads to handle the member system and imported the old users over from the Restrict Content Pro plugin. I also added Affiliate WP and created a members dashboard where users could download their themes, get support and join the affiliate program. I'm really happy with how the site looks now, its a good base to grow the site from now for the next couple of years.
Merging Fimply and AlienWP
I made the decision to merge Fimply and AlienWP, I didn't think there was a need to operate 3 different theme shops and I felt that the Fimply themes and AlienWP themes were a good match in styles – both are more minimal designs than I sell at ThemeFurnace. This process was actually pretty easy after I had done some reading on the best way to achieve this. This is what I did :
Created the Theme Pages on AlienWP and Transferred the content over
Created 301 redirects from each page on Fimply to point at the new one on AlienWP
Notified the URL change in Google Webmaster tools
The benefits of merging the two sites I feel, is that members who now join AlienWP now have access to more themes for the same price membership which should hopefully increase the signup rate. I'm also hoping there will be some SEO benefit because of the links pointing to Fimply which will now be directed to AlienWP. I will have to monitor the site to see what effect this has as this is the first time I have ever merged to websites before.
Theme Updates
A number of the AlienWP themes in the WordPress directory hadn't been updated for quite some time, once a theme hasn't been updated for 2 years it gets a notice at the stop saying this and drops out of the search results which obviously creates a big drop-off in downloads. AlienWP has 4 themes listed in the directory so I updated those, fixing any bugs, deprecated calls and so on. I managed to get 3 themes updated for AlienWP and 1 for Fimply, the AlienWP updates went live right away but unfortunately the Fimply theme went in for another review being classed as a new theme which is a pain, meaning its going to be a 5 month wait to have it reviewed now.
Something else I added to the themes was a documentation page in the admin area which contains the theme documentation along with an up-sell page listing our themes for sale and pricing etc. I used my own affiliate link for this so it will be interesting to see if they generate any sales.
Adding Content
Affiliate sales have been growing at ThemeFurnace, I have been posting "Collection" type posts on the blog for a while on there now which are giving a nice boost to the monthly income and also hopefully driving some extra sales to the main site. I decided to commission some posts from authors and add a "How To" guides section, so far the posts added were :
Each of these types of posts are monetized with affiliate programs, in particular hosting affiliate programs which I see as being a good potential revenue stream for the site. I plan to monitor these posts to see how they do and judge whether the income is worth paying for more to be written.
Acquisitions – TransparencyReport.com
No large acquisitions to report for June, although I did purchase the domain name TransparencyReport.com for $550 from a domain squatter / seller. Currently it redirects to the reports on this site, but I do have a idea in mind for a plugin for this domain. The actual transaction for this domain was a complete pain, it took most of June to complete, we used Escrow.com for the transaction but the seller was so slow to respond to emails, and extremely slow in transferring the domain but we got there in the end! I think its a pretty cool domain and for the price I think was well worth it.
I came very close to acquiring an invoicing plugin called Sliced Invoices which ended up selling for $42k on Flippa. I was in talks with the owner and was the top bidder on the auction at $20k, we agreed to a sale price of $30k when Ionut from ThemeIsle made a bid of $24k, this put the seller off ending the auction early as there was still a week or two to go on the auction so he decided to stick it out, I bet he's glad he did as $42k was a good price for the plugin.
I wasn't too bothered about missing out on the plugin as I was really stuck in two minds over whether to buy it or not – It would have meant taking on a developer to create new extensions and maintain it, plus the cost of purchasing the plugin itself. Another thing that put me off slightly was the GPL nature of the plugin, it didn't have a huge install base so it would have been pretty easy for someone to simply go the WooThemes route and fork / rebrand it and eat into the potential market.
Traffic Details
So let's get on with the stats for June, here is how my sites did traffic-wise.
ThemeFurnace Traffic Stats:
59,882 Sessions (+10,918)
51,330 Users (+8,918)
80,840 Page Views (+14, 242)
This was great to see such an increase in ThemeFurnace traffic, especially so considering we are now in summer and traffic usually dies off a bit over the summer due to the weather, people going on holidays etc. Adding an extra 10k visits over the previous month is really encouraging and it's good to see that me moving over to this site full-time managed to have an immediate effect.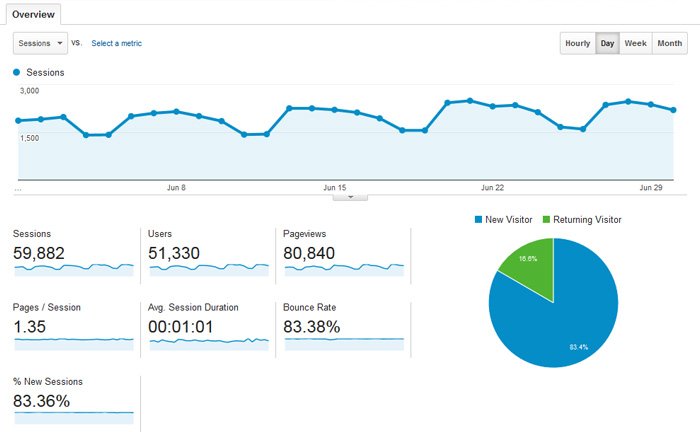 AlienWP Traffic Stats:
8,849 Sessions (+481)
7,550 Users (+306)
15,756 Pageviews (+892 )
A slight increase in traffic for AlienWP, it would have been a bit more as you can see from the traffic graph below, I forgot to add the analytics tracking code so the stats only start from June 3rd.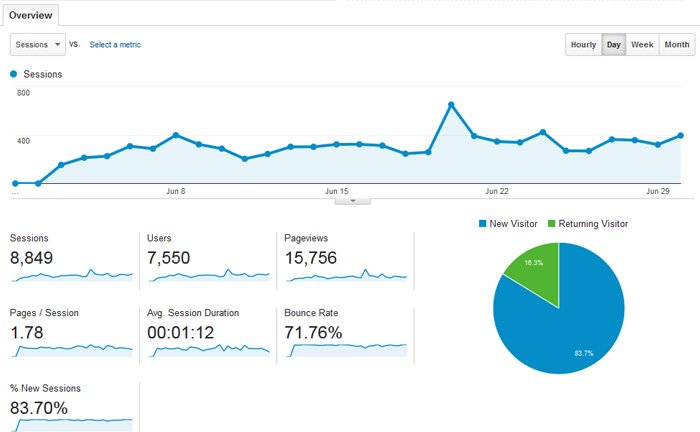 Financial Details
So obviously the income for June will be well down on May's which was an anomaly due to the sale of WPLift. Income was slightly down on ThemeFurnace over May, there was a dropoff in theme sales – I put this down to some troubles I had with the payment processor, EDD checkout was really slow – this was fixed by disabling affiliate auto-registration, also the start of summer always sees a slow down in sales.
The good news was AlienWP made over $1000 in the first month since I took it over, this was down to me emailing old expired customers and offering the 50% off if they renewed their memberships, I think the new design and theme updates also helped this increase revenue. I don't expect July to do as well but its a really encouraging start, it took a weight off my mind knowing that it was actually earning money after spending $18,000 on the purchases of Fimply and AlienWP.
Income:
ThemeFurnace: $3,262.96 (-$149.04)
AlienWP: $1,179.08 (+$1179.08)
Total: $4,442.04 (-$203,069.96)
Expenses:
TransparencyReport Domain: $550
ThemeFurnace Blog Posts: $300
MailChimp: $150
Total: $1000
Profit: $3,442.04
Conclusion & Plans
June was one of my busiest months for a while – I worked lots of 12+ days which is very unusual for me. Overall I'm very happy with how the month turned out – Merging two websites, A new site design live & theme updates and then having the site produce over $1000 is very promising. Plans for July are to continue working on theme updates, increasing income for ThemeFurnace and planning out some ideas for future plugins and themes.
Hope you enjoyed reading my second Transparency report, If you have any comments or questions I'd love to hear from you. Thanks!